Details:
Product Description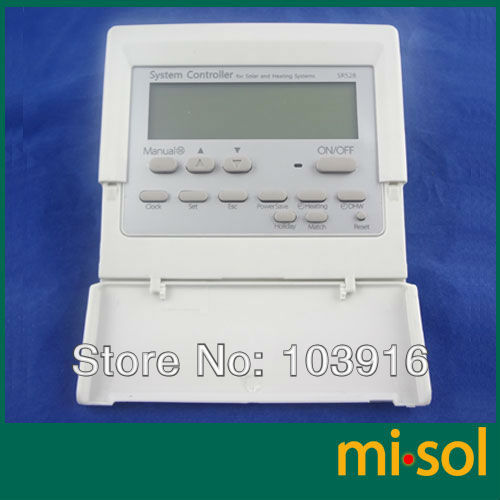 Description:
This listing includes: 1 unit of controller for solar water heater, 100v-240v,with wireless display.
(Remark: standard delivery package includes: 1 controller and 1 display. Extra displays should be ordered separately, 1 controller can be matched with maximum 8 wireless displays)
Application:
It can be used for the solar hot water heating system, as below:
Max. number of collectors:1
Max. number of storage tanks:1
Max. number of relays:4
Max. number of sensors:4
Max. number of application system:1
Technical Data:
Size of Display:130mm x130mm x25mm
Size of Controller: 200mm x140mm x43mm
Power supply: AC100-240V,50-60Hz. .
Power consumption: < 1.8W
Accuracy of temperature measuring: +/-2 cel. degree
Range of collector temperature measuring: -10 -220 cel.degree
Range of tank temperature measuring: 0-110 cel.degree
Suitable power of pump: 3 pumps possible to be connected, power of each pump<300W
Suitable power of electrical heater: 1pc<= 1500W .
Signal inputs: Inputs: 4 sensors,
-1pcs*Pt1000 sensor (<=500 cel.degree) for collector (silicon cable<=280 cel. degree),
-3pcs*NTC10K, B3950 sensor (<= 135 cel. degree) for tank, (PVC cable <=105 cel. degree),
Signal outputs: 3 outputs, to control circuit pump or electromagnetic valve, 1 output for control electrical heater
Ambient temperature:-10-50 cel. degree
Water proof grade: IP40
Operation frequency: 430-450 MHz, free to use without ISM admission certificate
Communication distance in open field: up to 600 meter (baud rate: 4.8kps/9.6kbps)
MAIN FUNCTIONS
Timing heating
Energy save mode
Temperature / time setting for DHW circulation pump
"ON/OFF" Manual for DHW circulation pump
Wireless connection(Code match between controller and display)
Temperature difference control 1*ΔT
Collector emergency shutdown
Collector cooling function
Collector low temperature protection
Collector frost protection
Tank re-cooling function
Celsius and Fahrenheit temperature switch
Maximum temperature of tank ( 1*storage tank)
Anti-Legionella function
High temperature by-pass function(Collector cooling down)
COMM Communication function menu
Holiday function
Manual Control( for 4 outputs:P1,P2,R1,H1)
Password setting
Recovery to factory setting
Manual Heating
Temperature query function
Memory Protection
Screen protection
Trouble shooting
Trouble protection
Trouble checking

The components included in the package:
Wireless Display 1 piece(if you need extra display, please contact us.)
Controller 1 piece
User manual 1 piece
PT1000 sensor (φ6*50mm, cable length 1.5m) 1 piece
NTC10K sensor (φ6*50mm, cable length 3m) 2pieces
Mounting accessories ( expansion screw, clamps) 1 piece
Power cable: 1 piece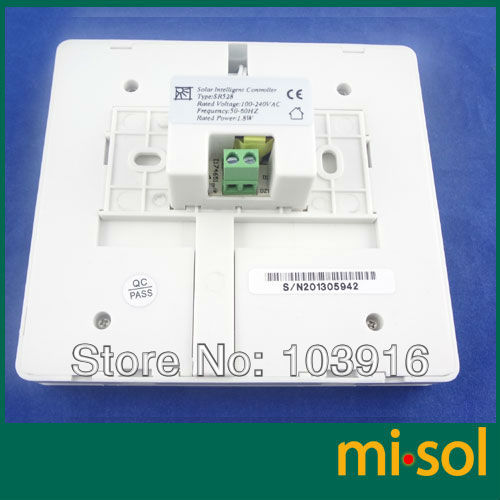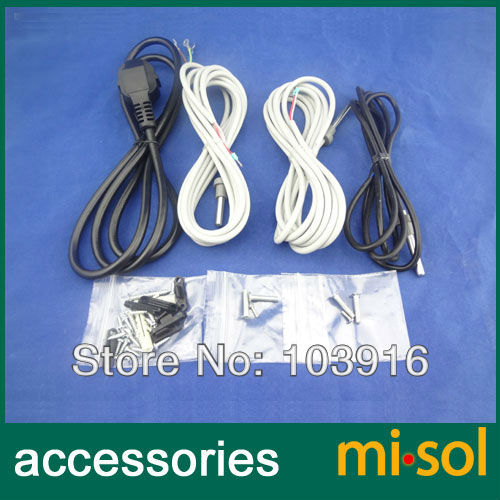 Current Reviews: : total 0 reviews
This product was added to our catalog on Friday 27 December, 2013.