Details:
This listing includes: 1 pcs of Waterproof Solar charge Controller 10A, 12/24V.
Application: it can charge the battery from solar panel, since it is water proof, it can be used outdoor, or used as solar street light controller.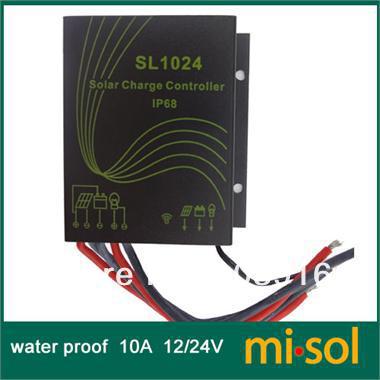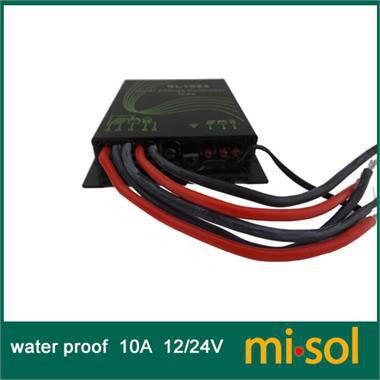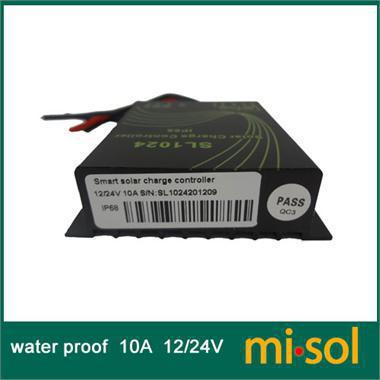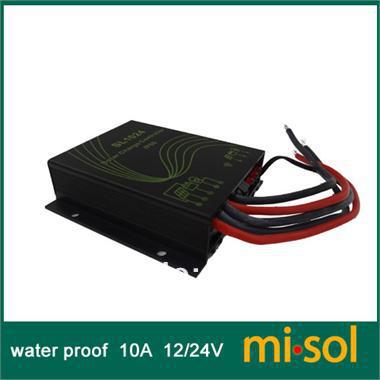 FUNCTION:
1. Using the Epoxy resin sealed technology, increased the function like: fall-proof, earthquake-proof, waterproof, corrosion-proof, moisture-proof, and so on. Waterproof grade: IP68.
2. System voltage : 12V/24V automatic switch
3. Comprehensive reverse connection protection
4. Intelligently overload, short circuit and over voltage protection. (After over current protection, it will restart for every 2 mins, until releasing the failure)
5. Multi-working model choosing, multi-parameter adjusting, make the products more intelligently, more useful.
6. It has temperature sensor outside, can make the temperature compensation more precise. 7. More advanced charging and discharging control algorithm, effectively increase the use of solar panels' rate and battery life.
8. Design of high power density, all-aluminum case. Smaller sizes and better performance 9.Controller with infrared wireless receiving and sending function; matching the remote control can be achieved on the wireless programming to the controller.
10. Remote control can only be used to change the controller model, set the light time at night and control the loads' switch, these the simple functionality If we use IRF remote control with LCD screen to complete more function setting for the controller (OPTIONAL)
Installation:
1. H*W*T: 72×69.4×20.5(mm) Mounting holes diameter: φ3.2(mm)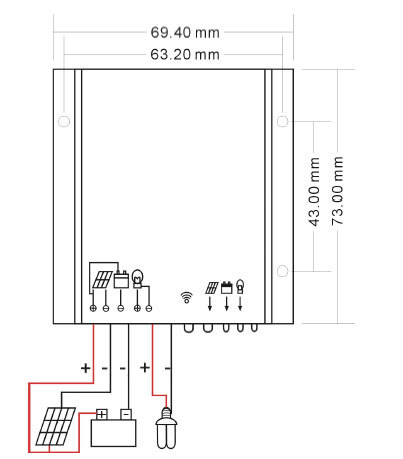 2.Please make sure the system voltage is 12V or 24V before connecting lines, and then connect the controller to the system.
3.Please connecting the battery's negative and positive first, if it connects correct, battery indicator will be on, and then connect the load. Connect the solar panel at last. If connection is correct and the charging indicator flashes slower at day time, it means it is charging the battery. Please distinguish the positive and negative before connecting lines. Avoid short circuit which can cause controller malfunctioned or damaged. (If the battery indicator is not on, please stop the further operation, refer to how to deal with the breakdown, after troubleshooting, and then continue next step)
4.Make sure the wires between the controller and the battery is as short as possible. Make sure current density of the cable shall not be less than 3A/mm2
5.All the parameter must be modified though remote control, since the system defaults mode is lighting-control only.
Status indication Note: in setting status, load indicator is the remote control status indicator.
indicator Status indication function Long lighting Solar panel voltage is charging to the battery
This controller has a very intelligent streetlight controller function, load work can be flexibly set through external IR programmer; can be provided in several ways.
Controller recognizes dawn and dark by checking the open circuit voltage of solar panels. 12V system default is 2.5V as identified point (24V is 5V as identify point). Continue more than 15s and higher than 2.5V that is considered to be the daylight, continue more than 15s lower than 2.5V that is considered to be night time.
Security:
1. the solar panel maximum input voltage is 55V, battery is 35V, please do not excess than this value. In 24V system, if battery voltage is higher than 31V, then the load will be closed. In 12V system, battery voltage higher than 15.5V, load will be closed.
2. In 24V system, if solar panel or battery polarity connect reversed, it might damage controller
3. If battery connects correct, but load connects reversed, controllers will not be damaged, but loads may be damaged.
4. Please be careful if you operate two or more than two errors at the same time, controller may be damaged.
Parameter:(When the environment temperature is less than 50 Degrees Celsius. and under streetlight mode, the charging current can reach to 15A):
Solar panel voltage <=55V
Rated charge Current 10A
Rated discharge Current 10A
Rated working voltage 12V/24V auto switch
Floating voltage 13.7V .×2/24V.25..
Improved charging voltage 14.3V.×2/24V continue 2 hours, once comes out with low voltage protection, then it will improve charging voltage, or improve charging voltage once a week. .25..
Low voltage protection 10.8V.×2/24V
High voltage disconnection 16.5V.×2/24V
Low voltage recovering 12.6V.×2/24V
Overload protection overload 25%, protected 1mins; overload 50%, protected 30s ; overload100%, 1s.protected lock, restart loads in each 2 mins, until full unlock.
Short circuit protection Protected lock, restart loads in each 2 mins, until full unlock.
No load loss <=8mA
temperature compensation -4mv/cell/.
Lighting control identified voltage 2.5V—11V.×2/24V can be set by remote control
Lighting control identified time 15seconds
working temperature -30.~60 Degrees Celsiushumidity scope <=90., no condensation
Dimension 73 mm×69.4 mm×20.5mm
Weight 0.16kg
Waterproof grade IP68
Current Reviews: : total 0 reviews
This product was added to our catalog on Thursday 19 December, 2013.