Details:
This listing includeds: 1 pcs Solar Regulator Charge controller 50A LCD screen 12/24V, solar regulator, new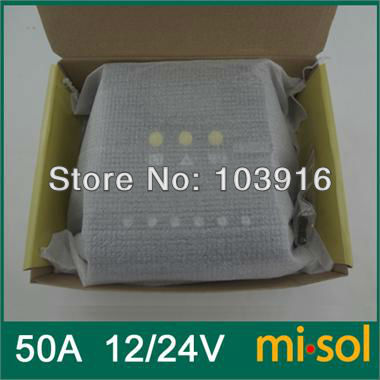 General Product Description
1). 50A 12/24V Regulator
2).CE RoHS approved
3).temperature sensor outside
4). LCD display
1. Product Introduction
CM series controller is a kind of intelligent, multi-purpose solar charge and discharge controller. The family use the fixed LCD display, with a very friendly interface; various control parameters can be flexibly set, fully meet your various application requirements. CM series controller has following features:
- Image of LCD graphic symbol
- Simple button operation
- Automatic Identification System Voltage level
- Intelligent PWM charge mode
- Automatic Temperature Compensation
- Adjustable charge-discharge control parameters
- Settable Operating mode of Load
- Accumulated function of charge and discharge Ampere hours
- Remote monitoring and control function (custom)
- Battery reverse-discharge protection
- Battery Low Voltage Disconnection (LVD)
- Battery reverse connection protection
- Overload, Short Circuit Protection
Model

CM5024Z

Data Model

CM5024Z

Rated Current

50A

Installation cable area.

≤7# AWG (16mm2)

Rated Voltage

12V/24V

Operating Temperature

-20°C~50°C

Maximum Voltage of solar panel

≤50V

Storage temperature

-30°C~70°C

Float Voltage

13.7V/27.4V

Humidity requirements

<90%,no condensation

Low Voltage Disconnection(LVD)

10.7V/21.4V

Size

130 mm×188 mm×62 mm

Low Voltage Reconnection(LVR)

12.6V/25.2V

Mounting hole spacing

90 mm×178 mm --Φ5

No load loss

<30mA

weight

760g

LoopVoltage Drop

<200mV

Temperature Compensation

-4mV/Cell/°C

Charging Mode

PWM mode

Notes

Model suffix "Z" represent automatic identify system voltage level,
Current Reviews: : total 0 reviews
This product was added to our catalog on Monday 16 December, 2013.