Details:
This listing includes: 1 pcs of solar charge controller, 12/24 voltage, 10A, for Duo-battery charging, with remote meter.
Features
Microcontroller digital accuracy
PWM Charge mode
State of charge (SOC)
Temperature compensation
Automatic detection of the voltage
External temperature sensor (optional)
Remote meter MT-1 shows the working data and condition
Battery type option
Battery AH setting
Charging priority setting
Modify parameters through four keys
Electronic protection
Short circuit protection
Reverse polarity protection
Reverse current protection at night
Over charging or discharging protection
Over load protection
Display
LCD Display: all systems parameters in digital value, system status as symbols.
Technical specification:
Setpoint Sealed battery Flooded battery Gel battery
Boost voltage 14.2V 14.4V 14.6V
Equalization voltage 14.4V 14.6V 14.8V
Float voltage 13.7V 13.7V 13.7V
Maximum solar voltage 30V(or 55V)
Battery voltage range 1-15V
Boost time 30 minutes
Self-consumption: 4mA at night, 10mA at charging
Meter bus connection: 8-pin RJ-45
Temp. compensation: -30mV/12V
Terminals: 4mm2
Temperature: -35 cel. dgree to +55
Note: all the data is for 12V, for 24V, please use 2x.
Remote meter Features
Remote digital display for the 10Amp/20Amp Duo- Battery Solar Charge Controller. Ideal for monitoring and display current solar system status. Displays both solar voltage and battery voltage as well as charging current and load current. Shows Amp-Hour and Watt-Hour charge accumulation as well as percentage the batteries are charged. Easy to use and program and is ideal for a quick system check.

Full Digital Display
Displays Voltage, Current, Amp-Hours, Watt-Hours and Percentage Charge
Suitable for both 12V and 24V Systems
Temperature Display
Easy to Use and Set-Up
Full Installation Instructions Included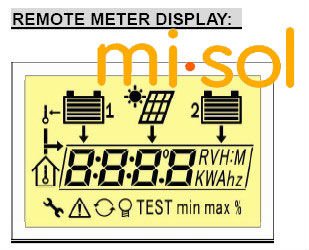 Current Reviews: : total 0 reviews
This product was added to our catalog on Monday 16 December, 2013.