Details:
This listing includes: 1 pcs of Fuel Cell(power module), and 1 pcs of electrolyzer (module)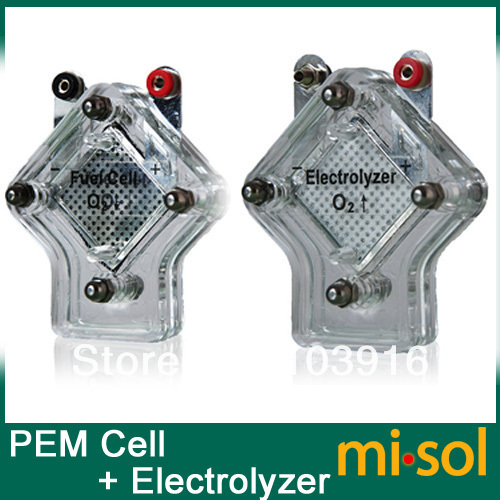 Application: it is used for the experimental tool, or the educational tool. It can be used in the lab, school, college or University.
You just need connect a DC voltage to the electrolyzer module to electrolyze the water to hydrogen and oxygen, then connect the hydrogen and oxygen to the fuel cell module to generate the power.
you can use it in the experiment for educational purpose. Please use deionized water only.
Technical parameter of FUEL CELL module:
Open circuit voltage 0,9 Volt DC
Output current: 0-0,3 Ampere
Output power: 0-0.18W
U-I Curve: 0A, 0.9V; 0.1A,0.72V; 0.2A, 0.66V; 0.3A, 0.6V
Key area of cell: 6.25c m­2
Dimension: 77mm (L) x 65mm(W) x 32mm (H)
Weight: 70g
Technical parameter of Electrolyzer module:
Input voltage: 1.8- 2.4VDC (you can connect to DC power, battery, or solar panel, etc.)
Input current: 0.25-0.8 Ampere
U-I Curve: 1.8V, 0.25A; 2V, 0.42A; 2.2V, 0.66A; 2.4V, 0.8A
Key area of cell: 6.25c m­2
Hydrogen production rate: 6ml /min
Oxygen production rate: 3ml /min
Dimension: 77mm(L) x 65mm(W) x 32mm (H)
You can use the two modules (PEM Cell and electrolyer) in the experiment as educational tool, example as the below picture:
(If you need the full kit of the components in below picture, please enquiry us seperately.)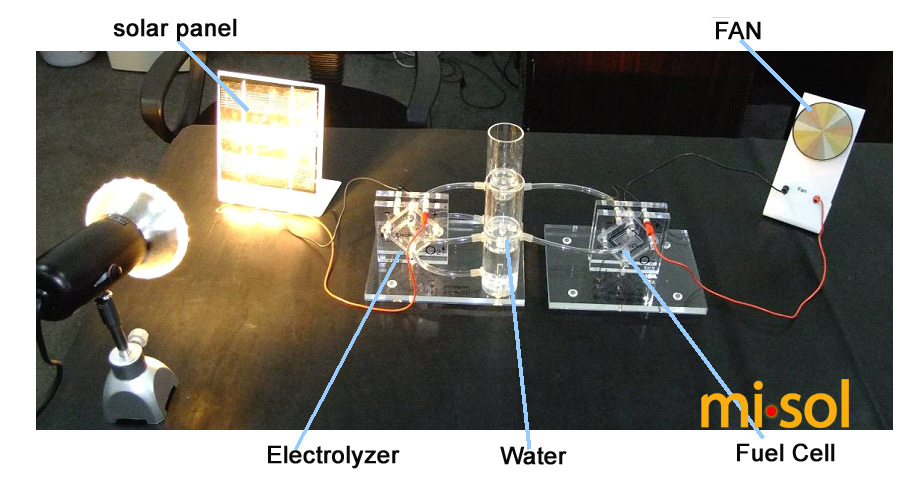 Current Reviews: : total 0 reviews
This product was added to our catalog on Monday 23 December, 2013.