Details:
This listing includes 1 pcs of Hybrid Wind Solar Charge Controller 1000W Regulator, 48V
(Remark: default input voltage of wind turbine is: 48VAC, if you need 48VDC, please let me know)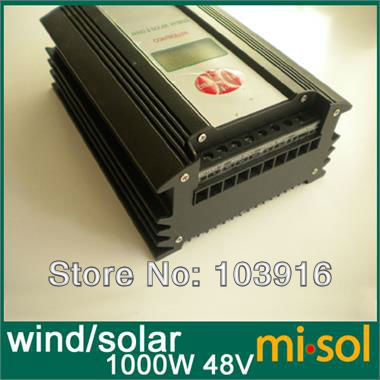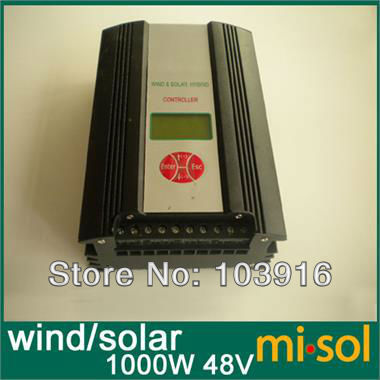 INTRODUCTION:
The wind/solar hybrid controller is control device which can control wind turbine and solar panel at the same time and transform wind and solar energy into electricity then store to the battery bank. Wind/solar hybrid controller is the most important part in off-grid system, whose performance has much effect on life expectancy and operation of the whole system, especially the battery expectancy. Life span of battery will be shortened by over charge or over discharge in any case.
PERFORMANCE FEATURES:
Superior military-grade components to ensure the product stability.
- Adopt Single Chip Micyoco (SCM) to have precise system control.
- Perfect protection function, thus the system has higher reliability.
- Check and set all operation parameters as requirement from LCD display.
- Voltage limiting and current-limiting charge mode, ensures battery in the best charging status.
- PWM stepless unload mode, which burn the excess power into dump load, making the battery charging in best status.
- Design of high quality aluminum alloy appearance, with small size and good cooling effect.
OPTIONAL FUNCTIONS:
- Temperature compensation function.
- RS communication function: RS232 are optional communication ports.
APPLICATION AREAS:
- Stand alone wind/solar hybrid power station
- Stand alone domestic household wind/solar hybrid power system
- GSM base stations, expressway and other no-residential regions.
- Coastal islands, remote mountainous, border posts for regions shortage of or without electricity.
- Government demonstration projects, landscape lighting project, street light project etc.
TECHNICAL PARAMETERS:
Rated Wind Turbine Power

1 KW

Rated Solar Power

300W

Rated Battery Voltage

48V

Wind Turbine Maximum Input Current

40A

Wind Turbine Maximum Input Power

2kW

Unload Voltage(factory default)

56V

Unload Current(factory default)

25A

Control Mode

PWM

Display Mode

LCD

Display Parameters

Wind Turbine Power, Wind Turbine Voltage, Wind Turbine Current,

PV Voltage, PV Charge Current, PV Power, Battery Voltage.

Working Temperature & Humidity

-20~+50cel.degree/35~85%RH(Without Compensation)

Temperature Compensation(optional)

4mV/cel.degree/2V ,–35--+80cel.degree , Precision:±1cel.degree

Communication Mode(optional)

RS232

Protection Function

Solar reverse charge protection , Solar reverse connection protection,

Battery over charge protection ,Battery reverse connection protection,

Lightning protection, Wind turbine current limiting,

Wind turbine automatic brake and manual brake.
Optional function: low voltage charging and RS communication function.
(if you need the optional functions, please enquiry us.)
Current Reviews: : total 0 reviews
This product was added to our catalog on Monday 23 December, 2013.