Details:
Description:This auction includes: 1 PCS of Solar/Wind Hybrid Charge Controller, 400W, 12V, with RS communication function, and low voltage cut function.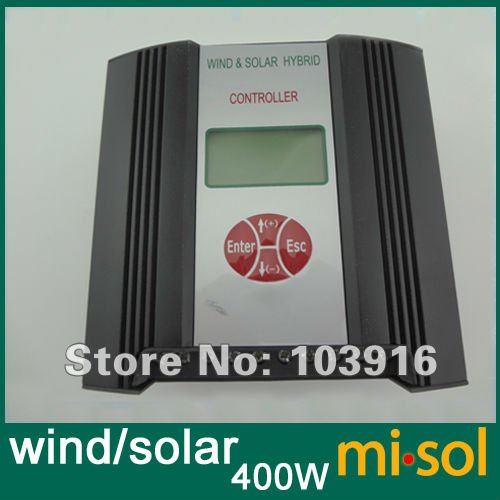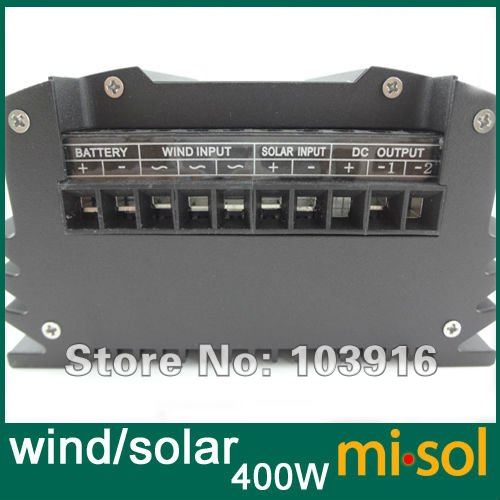 INTRODUCTION:
The advanced wind/solar hybrid controller is specially designed for high-end small-scale wind solar hybrid system, and especially suitable for wind/solar hybrid street light system& wind/solar hybrid monitoring system.The controller can control wind turbine and solar panel at the same time and transform the wind&solar energy into electricity for the DC load use, with excess energy stored into batteries. Varieties of appearance and function design, which is flexible to meet the requirements of different customers.
PERFORMANCE FEATURES:
- Superior military-grade components to ensure the product stability.
- Perfect protection function, thus the system has higher reliability.
- Check and set all operation parameters as requirement from LCD display.
- Voltage limiting and current-limiting charge mode, ensures battery in the best charging status.
- Two DC Load output, light-control, time-control, constant output, and multiple output control mode selection.
- PWM stepless unload mode, which burn the excess power into dump load, making the battery charging in best status.
- Design of high quality aluminum alloy appearance, with small size and good cooling effect.
- European CE certification.
TECHNICAL PARAMETERS:
Rated Battery Voltage

12V

Rated Wind Turbine Power

400W

Wind Turbine Maximum Input Current

50A

Wind Turbine Maximum Input Power

600W

Unload Voltage(factory default)

14V

Unload Current(factory default)

25A

Rated Solar Power

150W

Battery Over Discharge Voltage Shutoff

11V

Battery Over Discharge Recovery

12V

Output Protection Voltage

16V

PV Voltage Of Light-Control On

Adjustable(1V)

PV Voltage Of Light-Control Off

Adjustable(1.5V)

Load 1 Rated Output Current

10A

Load 2 Rated Output Current

10A

Load 1 Output Mode(Factory Default)

3 Modes Selection(Light-Control On and Light-Control Off)

Load 2 Output Mode(Factory Default)

3 Modes Selection(Light-Control On and Time-Control 5 hours)

Control Mode

PWM

Display Mode

LCD

Display Parameters

Wind Turbine Power, Wind Turbine Voltage, Wind Turbine Current, PV Voltage, PV Charge Current, PV Power, Battery Voltage,

Over Voltage, Under Voltage, Over Load, Short Circuit, Night. Etc

Working Temperature & Humidity

-20~+55°c/35~85%RH(Without Condensation)

Temperature Compensation(optional)

4mV/°c/2V ,–35°c--+80°c, Precision:±1°c

Communication Mode(optional)

RS232 RS485 RJ45 GPRS Etc

Quiescent Current

≤20mA

Protection Function

Solar reverse charge protection,Solar reverse connection protection,

Battery over charge protection,Battery over discharge protection,

Battery reverse connection protection, Lightning protection

Wind turbine current limiting,Wind turbine automatic brake&manual brake.

Extra Functions

Optional Function 1 : RS Communication and Matched Software. Install the matched software to computer and connect controller with Computer Via software. User can adjust parameters from software by themselves. User can know the state of whole system Via software.All data will be stocked into excel files from software.

Optional Function 2:Low Voltage Charge Function.With this function.

Controller can start charging battery when wind turbine voltage is lower than battery bank voltage ,For example ,Controller can start charging battery from 2V if runs in 12V battery bank
Current Reviews: : total 0 reviews
This product was added to our catalog on Thursday 19 December, 2013.